Metal Mesh Products Center: A Quick View of What We Offer: Curtains, drapery and metal fabrics for architectural and building designs.
Lanatal supplies architectral mesh curtains in two major series: Indoor metal mesh curtains and curtains for exterior decoration.
Applied as security curtains, shading curtains, dividers, guards, shower curtain, decorative curtain, fireplace curtain and other uses.
Structures / Patterns

Bead curtain
Chain link curtain drapery - flexible chain link metal mesh drapery
Chain fire curtain
Ring curtains
Metal link curtain
Mesh Curtain Materials, Colors, Finishes
Lanatal supplies metalic curtains in following colors:
Ring mesh, bronze
Chained curtain, in gunmetal finish
Metal mesh curtain with bronze finish
Mesh curtains, satin bronze finish
Decorative metal mesh curtain in bronze/brown color
Metal mesh curtain in a stainless steel color
Copper-color flexible chain link metal mesh drapery
Metal mash curtains in rose gold finish
Gold color decorative wire mesh
Chain link curtain drapery - in silver color
Bronze fireplace screen
Gold color metal wire mesh curtain
Copper or brass coloured mesh curtain
Metal bead curtains bronze finish
Brass ring mesh
Stainless steel ring mesh curtains, natural ss shine
Carbon steel mesh rings, hot dipped finish
Black coated steel curtains
Colors Examples: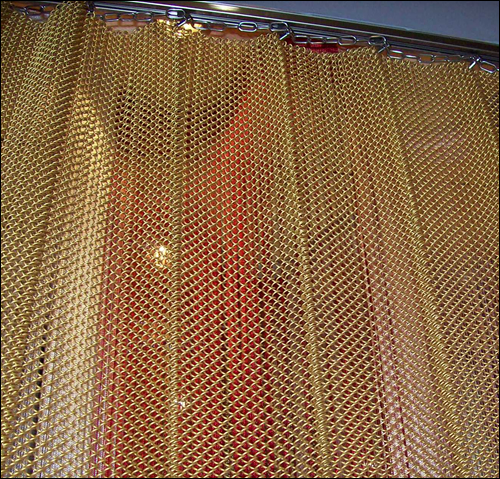 Gold Color Metal Wire Mesh Curtain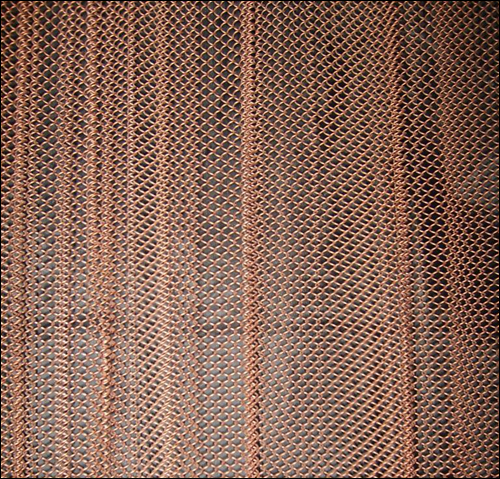 Copper or brass coloured mesh curtain, spiral coiled fabric

Curtain, Stainless steel ring mesh, natural stainless steel color
Structure Examples:
Mesh Curtains of Chain Link Structure:
Fire proof decorative mesh curtain, in vintage bronze color
New Projects
Outdoor Metal Mesh Guarding Curtains
Exterior mesh curtains to protect gardening containers from squirrels, raccoons and rabbits.
Curtains for Exhbitions
¼ Satin Brass 1mm Aluminum & Iron
16 x 1m x 6m
¼ Satin Silver 1mm Aluminum & Iron
4 x 1.4m x 6m
12 x 1m x 6m
3/16 Satin Brass 1mm Aluminum & Iron
3 x 1m wide x 3m height
3/16 Satin Brass 1mm Aluminum & Iron
7m wide x 2.5m height x 2
Internally Decorative Mesh Curtain Drapery for Display Stacks in Bars
Decorative metal mesh curtain with brass gold color
Single side opening curtain for stacks drapery
The stacks are for food & beverage display in restaurant or bars

Shower Curtain for Hotel Decoration Project
Metal mesh shower curtain
Installed on ceiling tracks
Easy Cleaning Mesh Curtain used in Airport Decoration Project
Material: Stainless steel 304
Curtain fabric: Woven SS310 Stainless Steel, 37% open
Colour: Natural stainless steel
Fabric width: 1220 mm
Weight Per Meter: 0.2 Kg/m2
Curtain Fullness: 1 to 2.5
Fire-Proof Security Metal Mesh Curtain Project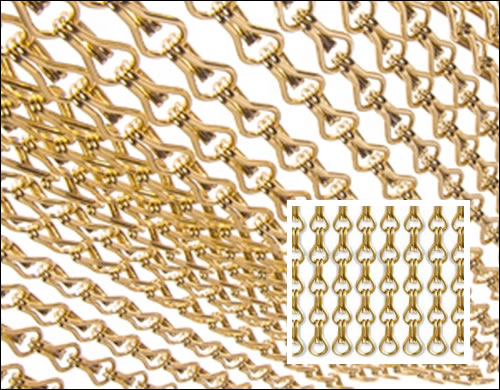 Curtain type: Straight curtain
Material: Aluminum
Color: Gold
Finish: Matte
Size: 90x250cm, 180x250cm
Fire rating: Non flammable A1 and A2
Interior Fire Curtain Project
Mesh for fire curtain
Fireplace screen material:
Flexible black steel mesh, aluminum chain linked mesh, brass mesh
Metal Mesh Divider Project
Drapery Security Curtain

Wire mesh drapery
Wire diameter: 2.0 mm
Mesh: 5.5mm
Color: Gun metal
Curtain for Interior Design Project
Flexible curtain system of dividing the large spaces into different areas

Aluminum metal wire mesh curtain, in silver color
Typical size: 50% fullness
- Material : Aluminum
- Color : Silver
- Wire diameter : 1.5 mm
- Hole Size : 7 mm
Curtain supplied with curtain tracks
Ordering tips:
Curtains are normally defined with following:
Curtain mesh length, width, weight
Mesh structure and size
Decorative colour choices
Shade or fullness ( 30%, 37%, 50%, 100%, etc.)
Specific uses.

Kindly note that, when you order or send inquiry, the more detailed information about the products are given, the more helpful for us to give you a quick and effective response.

More Wire Mesh Products We Offer: