Curtains Accessories and Installation
Lanatal supplies wire mesh fabrics and drapes with neccessory accessories.
Common accessories with mesh fabric for installation:
Curtain rod
Curtain rings
Curtain tracks choices
Fixing tools
Replacement mesh
Mount types and accessories
Automatic control of curtains or not
Pushing rings for fire chain mesh
Mounting types of mesh curtains vary from:
Hanging curtains from ceiling tracks
Fixed in position curtains
Sliding curtain drapes with slider in tracks
Different mounting method of metal curtains needs different treatment of curtain mesh edges, tools for installation and mounting accessories.
Suspender hanging Installations for ring mesh curtains and other common metal curtains:
Hanging rings over rod;

slider in track;

mesh fabric over rod

Installation of Soft Metal Fabric Curtains:
Mainly three types of hanging: hooked fabric hanging, hole hanging, ring inlaid in fabric hanging over the rods.

The curtain mesh is reinforced with metal plate at top edge, then hooked hanging to the ceiling track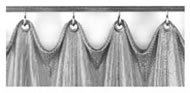 The soft metal fabric is processed on the edge with rings / holes, then the clip goes through the holes inside the fabric curtains.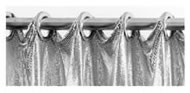 The drapes are treated and fixed with metal rings on the top side, the metal rings goes through the hanging metal rod.