Metallic Coil Mesh
Coiled draperies are light weight and see-through metal fabrics constructed by linked metal coils. This decorative mesh makes an ideal solution to many common design challenges in architecture projects. Lanata wholesales and exports a variety of chained coil materials, gauge, color, coating/finish, panel thickness, open area and installation types for our customers to choose from. The metal fabric offers excellent ventilation, light transmission and flexibility. Widely used in interior decorations: window treatment, architectural drapery, shower curtain, space divider and ceilings.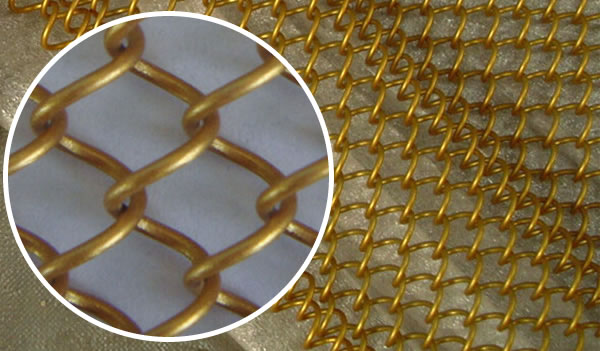 Hanging S Fold Curtains, Metal Painted Finish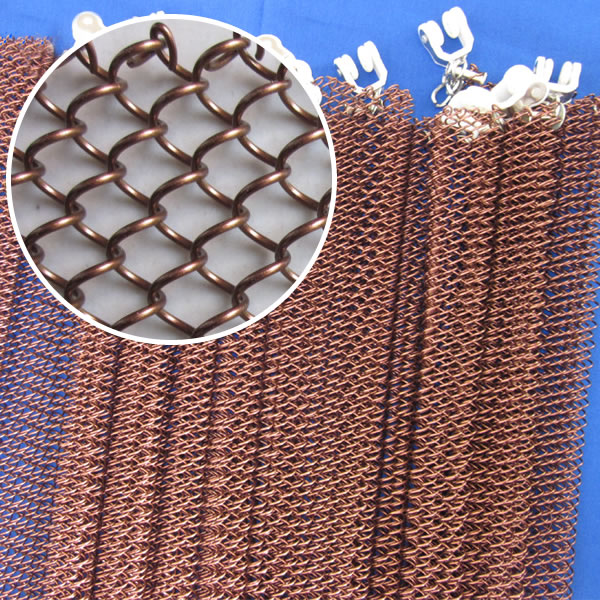 Coiled wire link mesh for Bar Partition and Light Transmission, 75% fullness, 1/8" aperture
Materials:
Mainly aluminum, stainless steel. Also brass, galvanized steel, copper and other metal alloys.
Available Colour Finishes:
Export Specifications
General Sizes:
Wire Diameter ranges: 0.8mm, 1.0mm, 1.2mm, 1.6mm or more.
Opening Area: 70%-85%
Fabric Height: max 12 m
Fabric: Length max: no limit. Can be joint.
Apertures: 3/32", 1/8", 3/16", 1/4", 5/16", 3/8", 1/2", 5/8" and more.

Details:
Mesh Material: Aluminum or stainless
Spiral diameter: 1.2mm
Spiral pitch: 6.2mm
Thickness :6mm
Weight :2.2kg/m2
Length: less than 50m
Width:less than 4m
Surface treatment: Pickled, Spray-paint, baked
Mesh Material: Aluminum, stainless steel 304/316/316L
Spiral diameter: 1.6mm
Spiral pitch: 12.2mm
Thickness :11.7mm
Weight :1.6kg/m2
Length: less than 50m
Width:less than 4m
Surface treatment: Pickled, spray painted, baked
Mesh Material: Brass, copper, aluminum alloy, low carbon steel, etc.
Wire diameter: 0.5–2 mm.
Aperture diameter: 3–20 mm.
Diamond height: 3–20 mm.
Diamond width: 5.5–35 mm.
Coil outside diameter: 3.75–19.5 mm.
Coil inside diameter: 4–24 mm.
Pitch: 4–24 mm.
Open area: 40% – 85%.
Weight: 4.2–6 kg/m2. (depending on material and size chosen)
Coil length & mesh panel width: customized.
Functions of Metal Coil Mesh Curtains:
·Adding texture
·Blast driven debris protection
·Daylighting
·Decorating
·Diffusing light
·Dividing space
·Energy savings
·Fall protection
·Safety barriers
·Screening
·Sculpting space
·Securing
·Shading
·Ventilating

Features
·Durable & Fire-proof.
·Recoverable and environment-friendly materials.
·Visually appealing.
·Allows ventilation.
·Light weight.
· Easy to install.
·See-thru proterty
-Flexible and easy to shape
-Variety of finishes and colors available.
Coil Mesh Curtain Installation
U track, H track and s. steel rod installation. H track, U track are made from aluminum materials. Stainless steel curtain rod material conforms to AISI 316 materials group.
H tracked curtains can form rippled strips or S folds.
Advantages: High flexibility, easy to be bent into any shape or angle, can be used to conform to various installation position conditions.

U track is a straight structure. It's difficult to bend because of exceptional structural design and high-quality control.
Advantage of U track hanging system: U track can provide a good visual hanging feeling for the coil curtains. Good choice for an aesthetic appearance decoration.

Stainless Steel Curtain Rod: The steel rod is is easy for installing, less time is needed to compete installation.

Applications & Demos

Bar in Manhattan: Four large curtains facing the exterior:

The coiled texture curtain provides privacy for the guests inside the building

Its functions: ( as most interior curtains are)
To allows for some light to enter and exit;
Reflect light off an LED strip mounted in the window sill;
Provides privacy for the guests inside;
Eye catching from the street level;
Can be pulled back if necessary;
Aged bronze color
Chain link security curtain for Construction project in Australia: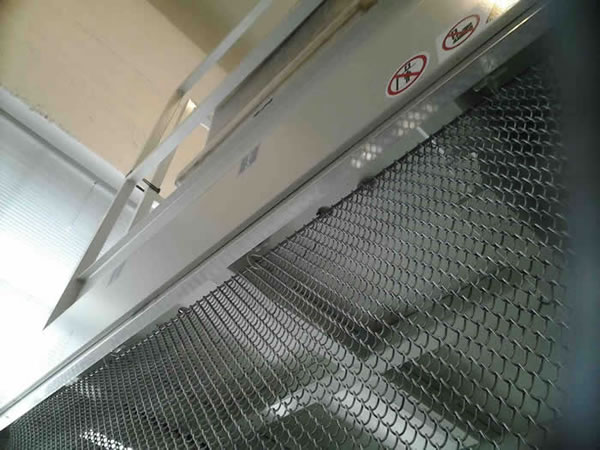 Fencing Safety Aluminum Mesh Curtains
W=110cm D=260cm
W=255cm D=260cm
With 2 hanging rods of same widths.
Decorative Copper Mesh for Sydney, Australia:
S Fold Curtains:
1 off @ 5264mm (w) x 2900mm (h)
1 off @ 6805mm (w) x 2900mm (h)
1 off @ 4880mm (w) x 2900mm (h)

To make S Fold curtains, will need 82 lineal metres or 105m2 or fabric.

Metal Wire Mesh Curtain for a retail project designing in Bangalore:
To cover : 2,62 m (wide) X 5,18 m (hight)
With fullness 50% : 3,93 m (width)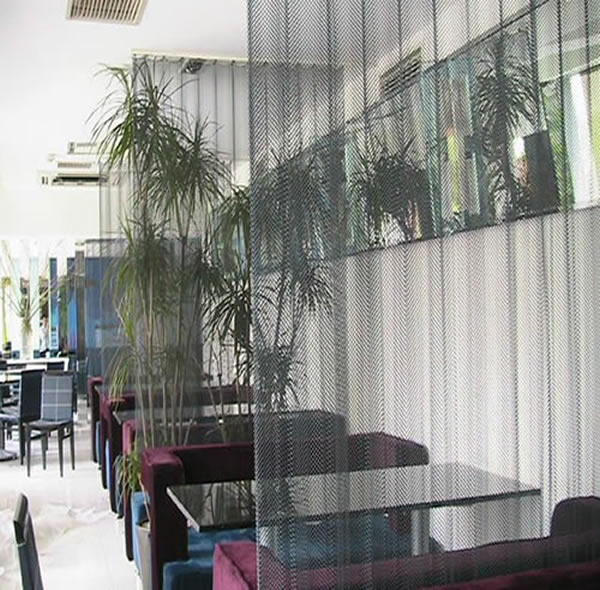 Aluminum Coil Mesh, in Silver Color, Wire diameter : 1.5 mm; Hole Size : 7 mm

Metal curtains in black and gunmetal color for Austria: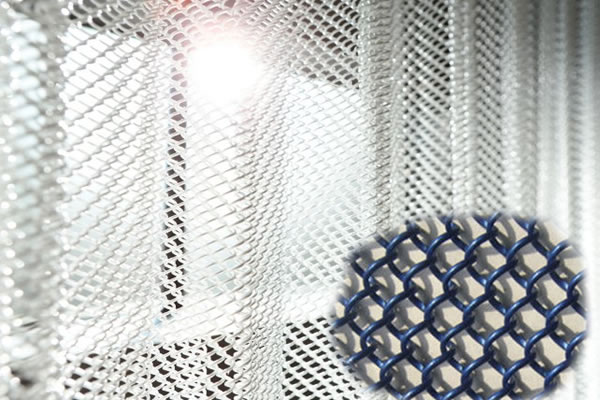 The background is structure while the detail is the right color.
For window 3000mm width x 4000mm height. Fixing is provided with the curtains.

Wire Mesh Curtain with Sliding Channels and Supports to make a standard hanging system.
Straight run 9300mm long x 2700mm drop, 6.3mm 18 gauge in brown / dark bronze painted aluminium.

Supplied in 1 piece, or 3 pieces.

What the Interior designers dislike: Most designers think below a bit too gold.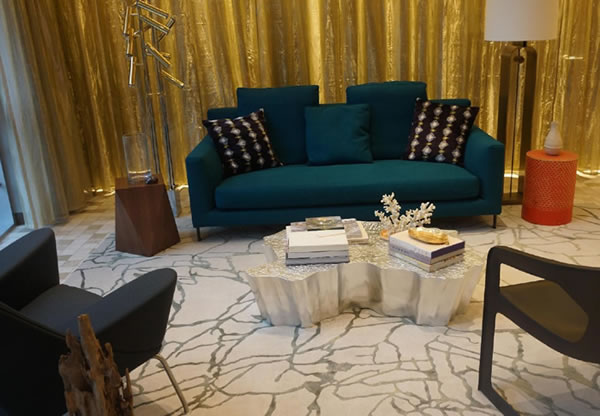 Replacement Security Curtains for industrial scissor lift guards: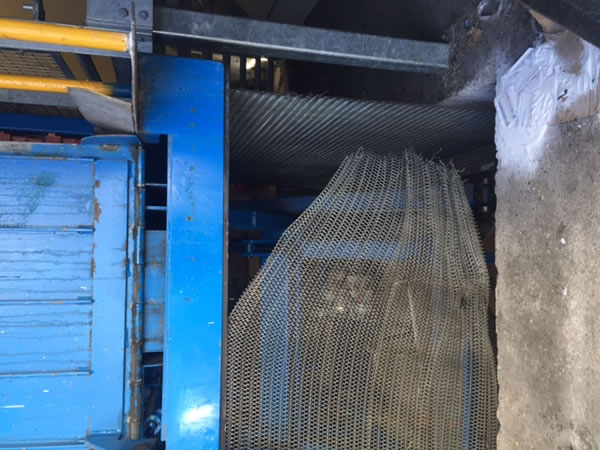 Besides balcony and common building security curtains, we also supply secure screening used for various barrier uses.
Please do not hesitate to contact should you require further details.