Metal Mesh Wall Cladding
Lanatal supplies various wire mesh wall cladding fabrics and the most popular type is perforated metal cladding. Other types like chain link, woven and crimped are also available upon request. Perforated metal wall cladding becomes well sold due to the reason of uniform holes, multi-designs, good strength and protection, easily processing and economic cost. Using of perforated metal cladding adds additional metal protective layer to the wall and the building at the same time it adds decoration effect.
Metal Materials for Perforated Metal Cladding Panels:
Low carbon steel plate, stainless steel plate, brass plate, Aluminum plate, nickel plate and nonmetal plate.
Hole Types:
Long hole, Square Hole, Circular Hole , Triangle Hole, Hexagon Hole , Fish scale Hole.
Forms of Supply: Rolls or in panels.
Processing Type: Woven Mesh, chain link mesh, expanded metal sheet, perforated metal or crimped wire.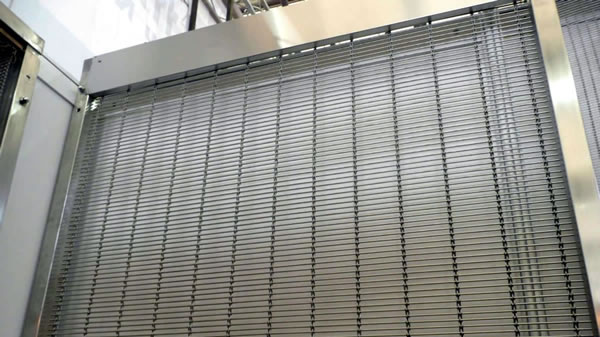 Advantages of Perforated Metal Cladding Screen Compared With Traditional Constructive and Decorative Products:
1) It provides strong protection.
2) It provides special metal luster and color. It is absolutely unique and artistic. The color and luster of the metal cladding sheet change with light, bringing different visual pleasures with the changing times in a day.
3) It is one kind of new, artistic and modern product using in construction and decoration, so if you pursue fashion of unique, eye-catching, and artistic, you can choose this product used in your room, office, exhibition, hall, restaurant, hotel, airport, almost all construction
4) It is easy to install, we provide the accessories and instruction.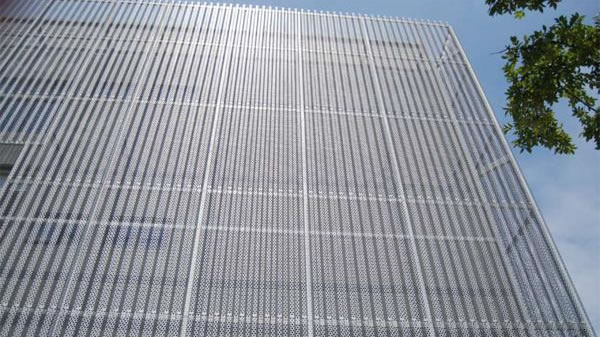 Perforated Stainless Steel Exterior Wall Cladding
Hole Type: Long hole, Square Hole, Circular Hole , Triangle Hole, Hexagon Hole , Fish scale Hole.
Detail Specifications of Perforated Metal Cladding with Hole Size, Staggered Centers, Sheet Thickness and Opening Area Comparison List:

Hole Diameter

Staggered Centers

Sheet Thickness

Open Area

0.045"

1.14mm

0.066"

0.033-0.039"

0.84-0.99mm

37.00%

1/16"

1.59mm

3/32"

0.027-0.033"

0.68-0.84mm

41.00%

1/16"

1.59mm

1/8"

0.027-0.066"

0.68-1.68mm

23.00%

5/64"

1.98mm

1/8"

0.027-0.053"

0.68-1.35mm

35.00%

0.081"

2.06mm

1/8"

0.053-0.066"

1.35-1.68mm

38.00%

3/32"

2.38mm

5/32"

0.053-0.066"

1.35-1.68mm

33.00%

1/8"

3.17mm

3/16"

0.027-0.127"

0.68-3.23mm

40.00%

5/32"

3.97mm

3/16"

0.027-0.066"

0.68-1.68mm

63.00%

3/16"

4.76mm

¼"

0.027-0.127"

0.68-3.23mm

50.00%

1/4"

6.35mm

3/8"

0.033-0.111", 0.25"

0.84-2.82mm, 6.35mm

40.00%

3/8"

9.52mm

½"

0.053-0.082", 3/16"

1.35-2.08mm, 4.76mm

51.00%

3/8"

9.52mm

9/16"

0.059", 0.119"

1.50mm, 3.02mm

40.00%

1/2"

12.70mm

11/16"

0.033-0.127", 3/16"

0.84-3.23mm, 4.76mm

48.00%

1/4" Hex

6.35mm Hex

0.285

0.027-0.033

0.68-0.84mm

76.00%