Metal Mesh Window Curtains
Metal ring mesh fabrics are often used as window curtains, for both shading and decorating effect. Lanatal window curtains are made up of stainless steel rings and aluminum alloy rings designed to be the epitome of elegance and luxury. With rings that are much smaller than most other chainmail used in projects today, this textile is a unique addition to any project that you may have in mind.
Lanatal supplies wire mesh hanging curtains for window shading and decoration. The window curtains can be made in retractable style. Various coating colors can be chosen to match the home decoration style.
From materials, our window curtains are divided into types: Stainless steel and aluminum alloy.
Stainless Steel Mesh Window Curtains:
Popular size of stainless mesh window curtain:
Ring Mesh Wire Diameter: 0.53mm
Ring Size: 3.81mm
Feature of stainless steel ring window curtains:
1. Light Weight
2. Unique Look & Feel
3. Very Versatile
4. No Rusting or Tarnishing
5. Custom Size Available
Aluminum Alloy Mesh Window Curtains:
Lanatal Aluminum alloy mesh curtains for window has two kind of processing, one is lacquer coated, the other is Anodic oxidation. The lacquer coated window curtain is cheaper than the curtains treated with anodic oxidation.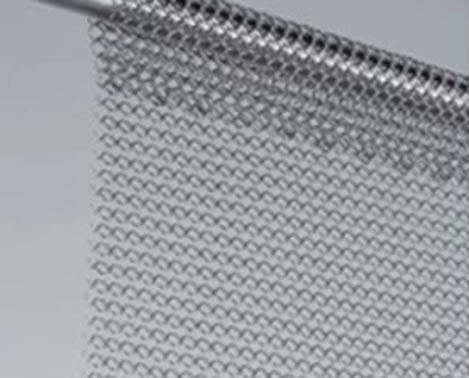 Specification of Metal Mesh Drapery for Window Curtains

Item No's

Wire Dia.

Opening

Materials

Processing

RMJ-1004

1.0 mm

4 mm

AL-Mg wire

lacquer coated

RMJ-1005S

1.0 mm

5mm

AL-Mg wire

stainless steel

RMJ-1205B

1.2 mm

5 mm

AL-Mg wire

lacquer coated

RMJ-1205S

1.2 mm

5 mm

AL-Mg wire

lacquer coated

RMJ-1206

1.2 mm

6 mm

AL-Mg wire

lacquer coated

RMJ-1206-OX

1.2 mm

6 mm

AL-Mg wire

anodic oxidation

RMJ-1207

1.2 mm

7 mm

AL-Mg wire

lacquer coated

RMJ-1208

1.2 mm

8 mm

AL-Mg wire

lacquer coated

RMJ-1209

1.2 mm

9 mm

AL-Mg wire

lacquer coated