Metal Mesh Partitions
Decorative metal wire mesh made with super quality stainless steel, aluminum alloy, brass, copper or other alloy materials is now widely used in modern buildings as partitions and curtains.
Metal mesh partitions are both ornamental and strong. It brings an open area yet keeping good privacy. It has the features of versatility, unique texture, a variety of colors, good strength, easy maintenance, modern effect, good vision, durability and flexibility.
Metal Mesh Partitions are perfect for private or restricted areas. Security Wire Mesh Partitions can also be custom made to fit any situation.
Application:
Decorating and room dividing in hotel, cafe, office , museum , opera house , concert hall and other sites.
Material: Stainless Steel, Copper, Aluminium, Low Carbon Steel, etc.
Cable Wire Diameter: 0.6--3.0mm
Cable Pitch : 3.0--80.0mm
Rod Diameter : 0.8--4.0mm
Rod Pitch : 2.0--15.0mm
Surface Treatment : Anodized, powder coated , etc.
Two popular types of mesh partitions: stainless steel partitions and copper mesh partitions.
Stainless Steel Metal Mesh Partitions
Stainless steel decorative wire mesh is often specified for architectural partition applications, both internally and externally. Grade 304 and Grade 316 are mostly used. We recommend 316 and 316L grade stainless for exterior uses.
Stainless wire mesh partition is a sustainable material which offers superior economic and environmental benefits as well as high strength to weight ratio, ease of fabrication and excellent aesthetic appeal.
Surface finish: chemical polishing
Size: max. width:8m, no limited for length
Installation: We provide detailed instruction and drawings, we can design accessories according to your job sites.
Accessories: Base, stainless steel rod, eyebolt, tension spring etc.
Stainless Steel Wire Mesh Partitions
Material
Cable Dia
Cable Pitch
Rod Dia
Rod Pitch
Weight
mm
mm
mm
mm
kg/m2
SUS 304/316/316L
0.75mmx4
26.4
1.5
3
5.3
1mmx4
36
2
4
7
0.6mmx2
5.5
0.8
2.3
2.6
2mmx4
50
3
6
11.56
3mmx3
40
3
11
9.5
2.75mmx2
40
4
14.5
9.41
1.05mmx2
16
4
7
14.9
2mmx3
80
3
10
6.6
1.6mmx1
3.2
1.2
6
5
2mmx1
3.1
1.2
5
10
2.5mmx1
5
2
6
12.2
Note: Special Specification can be customized according to requirements .
Stainless Steel Mesh Partitions Made with Cable Wire and Metal Rod:
Features of Stainless Steel Partitions:
High tensile, strong and durable .
Beautiful and elegant appearance, fashionable .
Rust corrosion.
Easy to install. No special technology needed.
Long using life.
Stainless mesh partitions offer protecting to the wall.
It is rust-proof
Shelter from sunshine etc.
Copper Wire Mesh Partitions:
The specifications of creative style mesh for partitions: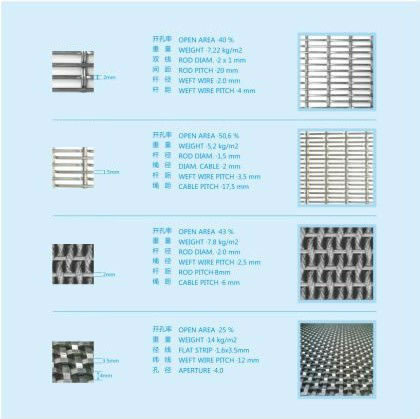 Various Hole Types of Mesh Partitions: