Metal Mesh Ceilings
Lanatal exports standard and custom sized perforated metal mesh grilles used as interior ceiling panels in various architectures designs. This type of metal wire mesh ceilings are both decorative and sound absorbing, also called acoustic panels.
Common Perforated Metal Materials: Aluminum, Iron, Steel
Surface treatment of metal mesh ceiling:
1) For aluminum material:
- Without treatment
- Anodized finish (Colours can be silver, blue, green, yellow, pink, red, black)
- Powder coated
- PVDF (surface will be much more smooth, level off and glossy, it also has a much longer life span than common treatment)

2) For Iron Steel Perforated Material:
- Galvanized : Electric galvanized, Hot-dipped galvanized
- Powder coated
- Spray painted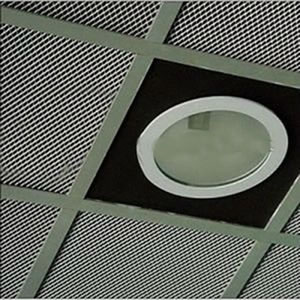 Product:
Open cell Metal Ceiling / Grilles Ceiling
Material:
high quality Aluminum alloy
Size:
10*40, 10*45, 10*50mm
Separation distance:
50*50mm,75*75mm,100*100mm,120*120mm,150*150mm,200*200mm
Thickness:
0.32, 0.42, 0.52mm
Powder coating thickness:
0.08mm(average thickness 0.08mm)
Colour:
Refer to RAL Color chart
coating:
Ployester powder, PE lacquer, PVDF powder
Packing Carton:
80pcs /carton or In accordance with the size
Application:
Office places, meeting room, supermarket, school, corridor,
toilet, hospital, re-decoration works.
Size of the ceiling panel cells can be different: Please refer to the following with photo illustrations:
50x50
75x75
100x100
150 x150
120 x120
200x200
Illustration of Panels Sizes.
Installation of Ceiling Grilles: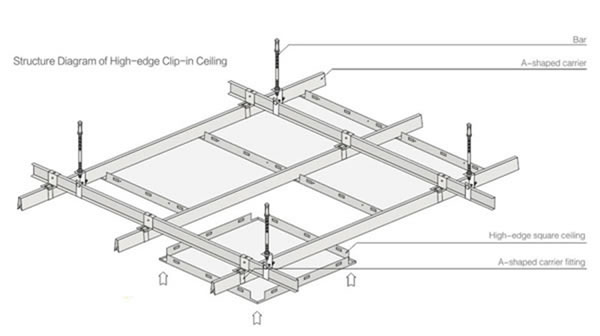 In addition, the ceiling system grille varies in height grids (H): it is 40, 45 and 50 mm.
Standard height is 40 mm. At this altitude grids yields the best visual effect on any areas.
Standard width of base Grille is 10mm.
Ceiling Accessories:

Accessories for the perforated metal ceilings include T-grid, carrier fitting, suspension bar, hanger, etc.
Aluminum Square Ceiling Panels for Interior Decoration: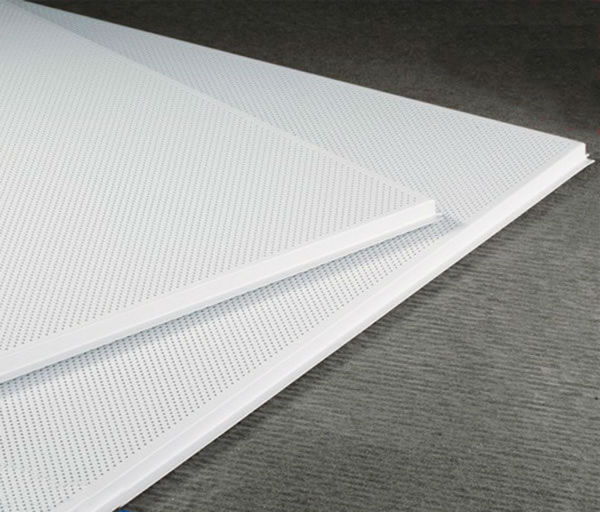 Advantages of aluminum perforated metal mesh ceiling:
1) Used as decorative mesh for building walls and ceilings
2) Colorful
3) Rainstorm won`t hurt
4) Aluminum won`t get rusty
5) Anti-corrosive
5) Weight is light enough for outer and inner wall hanging
Specification of perforated metal, raw material for ceiling processing:
| | | | | | | |
| --- | --- | --- | --- | --- | --- | --- |
| Mesh thickenss(mm) | Distance short(mm) | Distance long(mm) | Strip(mm) | Width(m) | Length(m) | Weight(kg/m2) |
| 0.5 | 2.5 | 4.5 | 0.5 | 0.5 | 1 | 1.8 |
| 0.5 | 10 | 25 | 0.5 | 0.6 | 2 | 0.73 |
| 0.6 | 10 | 25 | 1 | 0.6 | 2 | 1 |
| 0.8 | 10 | 25 | 1 | 0.6 | 2 | 1.25 |
| 1 | 10 | 25 | 1.1 | 0.6 | 2 | 1.77 |
| 1 | 15 | 40 | 1.5 | 2 | 4 | 1.85 |
| 1.2 | 10 | 25 | 1.1 | 2 | 4 | 2.21 |
| 1.2 | 15 | 40 | 1.5 | 2 | 4 | 2.3 |
| 1.5 | 15 | 40 | 1.5 | 1.8 | 4 | 2.77 |
| 1.5 | 23 | 60 | 2.6 | 2 | 306 | 2.77 |
| 2 | 18 | 50 | 2.1 | 2 | 4 | 3.69 |
| 2 | 22 | 60 | 2.6 | 2 | 4 | 3.69 |
| 3 | 40 | 80 | 3.8 | 2 | 4 | 5.00 |
| 4 | 50 | 100 | 4 | 2 | 2 | 11.15 |
| 4.5 | 50 | 100 | 5 | 2 | 2.7 | 11.15 |
| 5 | 50 | 100 | 5 | 1.4 | 2.6 | 12.39 |
| 6 | 50 | 100 | 6 | 2 | 2.5 | 17.35 |
| 8 | 50 | 100 | 8 | 2 | 2.1 | 28.26 |
Perforated Aluminum Ceilings for Outdoor Uses: